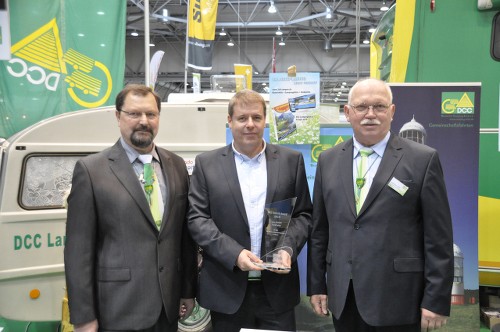 We are very happy – obiviously. Our works mission – making travel safer with TireMoni tyre pressure monitoring systems for fast and easy retrofit – has been honored by the German Camping Club DCC during the Touristik & Caravan International fair in Leipzig. We are looking forward to continuing our efforts for more safety and ecological driving together with strong partners. This is an excerpt from the laudatory speech for the award:
"It is our aim to increase publicity for the indispensable details that help us to safely enjoy our hobby" says Dipl.-Ing. Andreas Jörn, President Deutscher Camping-Club e.V.

As Jörn emphasizes in his encomium, the right tyre pressure not only results in better fuel economy but also improves driving safety. The danger of a blowout is minimized and driving stability is increased considerably. It is not without reason that European legislators require tyre pressure monitoring systems in passenger cars.
TireMoni tpms can be easily retrofitted to camper trailers as well as to motorhomes thus eliminating tyre problems altogether. The sensors transmit their data wirelessly to the display in the driver´s viewing area. This way even a slow puncture can be caught early enough." writes Camper Journal: TireMoni mit dem DCC Technik-Award 2016 ausgezeichnet
Both caravan and motorhome users have been appreciating TireMoni tyre pressure monitoring systems for many years. Monitoring the tyres´pressures and temperatures during the ride not only improves driving stability and prevents accidents, the right pressure also saves fuel and improves your braking distance.
To honor the DCC Technology Award, TireMoni has put together a special REPA carefree package. This includes: 6 tyre pressure sensors, a monitor and accessories, plus 2 PS-REPA Set tyre repair kits, plus 6 short metal valves ASC-31 and 6 spare sensor batteries CR1632 plus 1 cleaning spray and 1 intallation spray as extended accessories. This at a reduced special price of just 299,– Euro here: TireMoni TM-260 REPA carefree package
Technical Specifications of TireMoni TM-260 tyre pressure monitoring system:
6 sensors, replaceable battery, weight 10g / sensor
Measurement range: 0 – 11 bar (0 – 160 psi), accuracy: 0.14 bar (2 psi)
User selectable pressure warning thresholds Lo-P and Hi-P
User selectable temperature threshold Hi-T
Permanent display of all 6 tyre pressures
Extendable up to 10 sensors (using extension sensor packs 7,8 and 9,10)
6 metall valves ASC-31
6 sensor batteries CR1632
Find more tpms, rdks at https://shop.TireMoni.com
Let TireMoni sensors do the job of checking your tyre pressure in your caravan, trailer, motorhome, transporter, car or SUV, quad, bike, etc. Sensors will inform you and time during the ride – that´s exactly the time when you need the right tyre pressure.